This is probably our best-selling and best value for money concrete garage. This garage boasts all of the following maintenance-free and security features as standard; White Georgian-style up & over door with 4-point locking, real brick front posts, white UPVC fascia, white UPVC fixed 4ft window, 3ft steel personnel door with multi-point locking, guttering to the rear and a sand & cement fillet.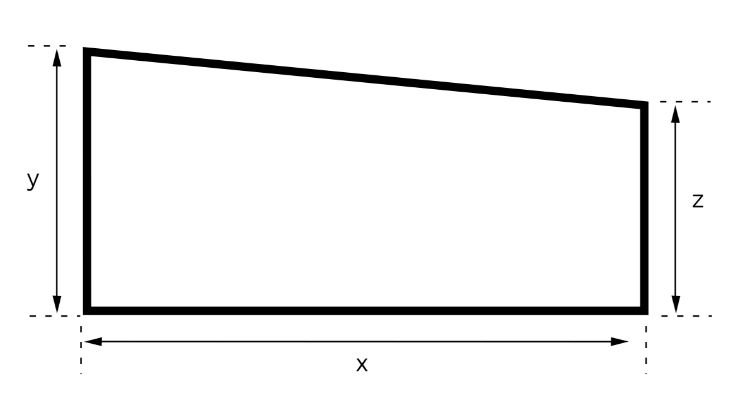 DIMENSIONS EXPLAINED
x :Length of building excluding roof overhang (roof overhang is approx. 7cm at the front and 18cm at the back if guttering is specified)
y :Highest point of roof
z :Eaves height - where the roof starts to slope upwards
This garage is available as a single or double in 8 standard widths and 7 standard lengths.
Standard widths, single garages:
8'6"(2.59m), 9'6"(2.89m), 10'6"(3.20m), 12'6"(3.81m), 14'6"(4.42m)
Standard widths, double garages:
16'6"(5.03m), 18'6"(5.64m), 20'6"(6.24m)
Garage lengths available:
16'3"(4.95m), 18'3"(5.56m), 20'3"(6.17m), 22'3"(6.78m), 24'3"(7.39m), 26'3"(8.08m), 28'3"(8.61m)
X= Garage length as above
Y= Front height - 7'3"(2.21m)
Z= Rear height – 6'9"(2.05m)
N.B. guttering to the rear increases the overall garage length by 6"(15cm)
Internal rear height (lowest point) -195cm
Internal front height – 212cm
Up & over door drive through height clearance – 186cm
Internal width and length is 6"(15cm) less than external measurements
Concrete panels – 75mm thick multi-spar concrete panels with steel re-enforcement bars.
Front posts – Real brick slips affixed to 75mm thick concrete posts, hand-pointed with mortar - 4 colours to choose from.
Garage door(s) – Georgian style white up & over door, fully retractable complete with 4-point locking bars and 2 keys.
Window – 122cm wide x 78cm high white UPVC double glazed, non-opening.
Fascia – 9mm thick white UPVC to front, rear and both sides.
Roof sheets – full length galvanised steel roof sheets with felt lined anti-condensation coating on the underside.
Roof trusses – galvanised steel C-section 95mm x 50mm.
Personnel door – 3ft (91cm) wide x 197cm high white steel with multi-point locking & 3 keys.  Door aperture is 186cm x 83cm.
Guttering – 112mm half-round guttering with down-pipe, white, black or brown.
Sand & cement fillet – an internal mortar fillet is applied by the installers where the concrete panels adjoin the concrete base.
Garage door widths.  As the garage gets wider, so does the up & over door, please see below what garage door width comes with each garage:
| | | |
| --- | --- | --- |
| Garage Width | Garage Door(s) Width | Drive Through Width |
| 8'6"(2.59m) | 7'0"(2.13m) | 6'8"(2.03m) |
| 9'6"(2.89m) | 8'0"(2.44m) | 7'8"(2.34m) |
| 10'6"(3.20m) | 8'0"(2.44m) | 7'8"(2.34m) |
| 12'6"(3.81m) | 9'0"(3.81m) | 8'8"(2.64m) |
| 14'6"(4.42m) | 10'0"(3.05m) | 9'8"(2.95m) |
| 16'6"(5.03m) | 7'0"(2.13m) x 2 doors | 6'8"(2.03m) x 2 |
| 18'6"(5.64m) | 8'0"(2.44m) x 2 doors | 7'8"(2.34m) x 2 |
| 20'6"(6.24m) | 8'0"(2.44m) x 2 doors | 7'8"(2.34m) x 2 |
Guttering
Specify black, white or brown guttering to the sides of your apex building or to the rear of your pent garage. Includes downpipes as necessary.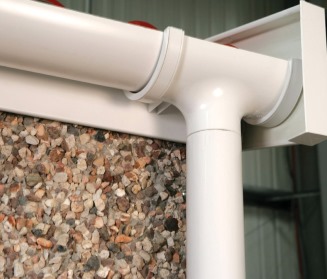 Sand & Cement Fillet
This is optional, but strongly recommended. A mortar fillet applied to the inside of your garage walls helps to prevent water ingress.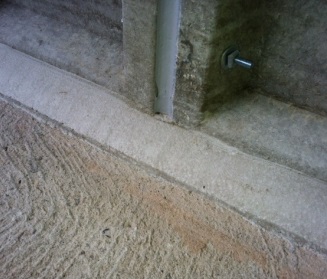 Real Brick Front Posts
Upgrade the front posts of your spar garage either side of the garage door. There are five attractive styles to choose from; Warwick Red, Autumn Red, Buff, Reclaimed and Anthracite.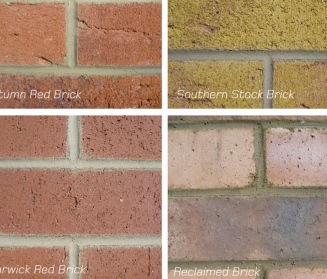 UPVC Fascia
No need for future painting or maintenance. Up-grade your fascia, available in white, golden oak, rosewood or anthracite grey.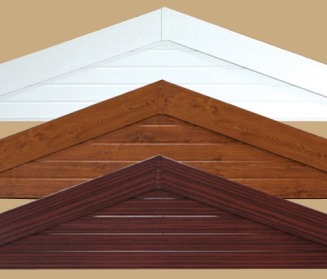 Extra High Garage
Add additional height to your garage, on apex garages this can be 7ft eaves or 7'6" eaves, on pent garages this can only be 7'6" (standard eaves height is 6'6").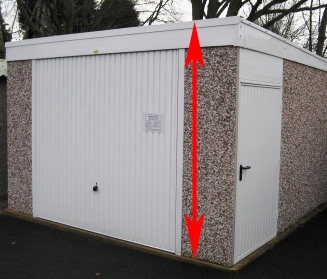 Lining Clips
These are supplied in a pack of 12. They enable a piece of timber (not supplied) to be fixed to the inside of the concrete garage panels. This can then be boarded over to line all or part of your building.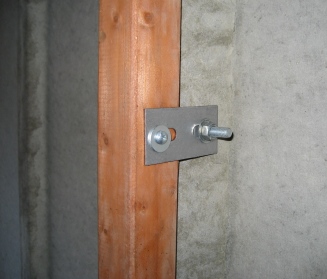 Shelf Stack
The Shelf Stack is available 2ft, 4ft or 6ft wide, six shelves high.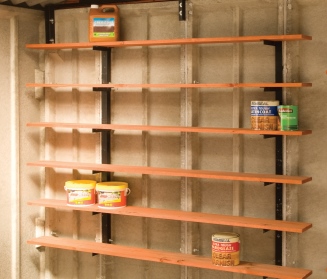 Sectional Brick Finish
Change some or all of the walls of your garage to this attractive Brick Effect wall panels. 4 styles are available; Antique Red, Anthracite Grey, Tudor Brown or Buff. The Antique Red or Buff panels can have accent colours added in, this is shading to an occasional brick on the panel. This option is not available on the website for more information please phone us on 0121 707 5066.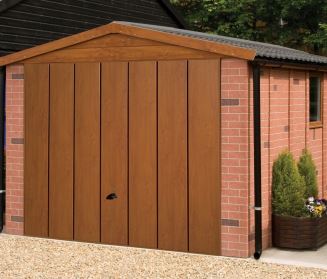 Sectional Stone Finish
If you live in an area with predominantly stone-built buildings, this wall finish will fit in really well. Available in Cotswold Buff or Pennine Grey. This option is not available on the website for more information please phone us on 0121 707 5066.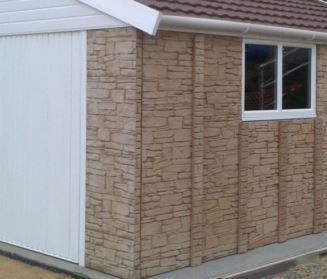 Garaclad
An attractive PVCu cladding is affixed to the walls of the garage, this comes in 6 different colours; White, Sand, Cream, Light Blue, Light Grey and Green. This option is not available on the website for more information please phone us on 0121 707 5066.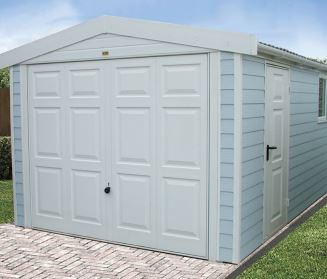 Steel Personnel Door
Side or rear access is easy to accommodate thanks to a choice many different personnel doors. This is the most popular, a steel personnel door in white available in 3ft or 4ft with, includes multi-point locking as standard.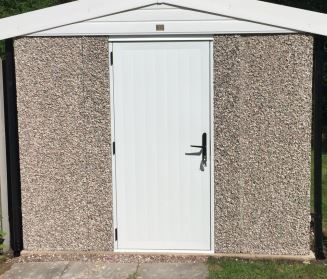 Timber Personnel Door
A basic, factory-treated personnel access door, this door is available 3ft or 4ft wide.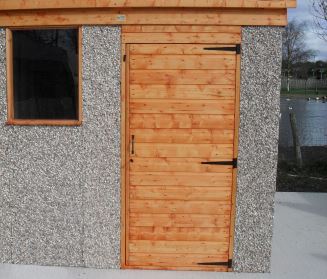 Georgian Style Steel Personnel Door
This door can be positioned on the rear wall or on either side of your new garage, it has 3 panels to give it the Georgian style, complete with multi-point locking. Available in 3ft wide only.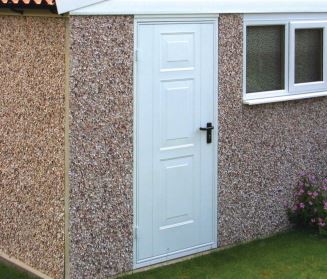 Fully Glazed UPVC Door
A great looking maintenance-free personnel door, this door has double-glazed windows top and bottom and is available in 3ft or 3'6" widths.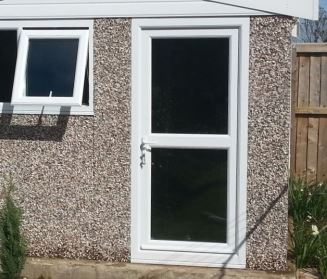 Half Glazed UPVC Door
This door has a panel of double-glazing at the top and a white UPVC panel at the bottom, available in 2 widths; 3ft or 3'6".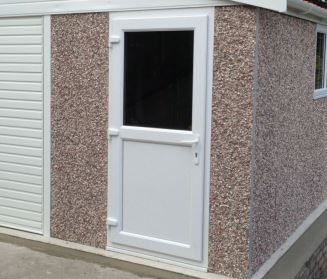 Fully Panelled UPVC Door
For additional privacy, this door is ideal, both the top and bottom panels are white UPVC. Comes in two widths; 3ft or 3'6".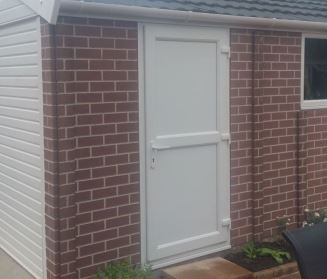 Timber Framed Window
Add additional windows with these single-glazed, timber-framed units. Choose from 2ft wide or 4ft wide, they are only available fixed, non-opening.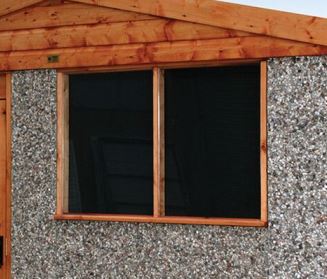 UPVC White Window
If your garage comes as standard with a timber framed window, this can be up-graded to a maintenance-free white UPVC window, 2ft or 4ft wide and either opening or fixed.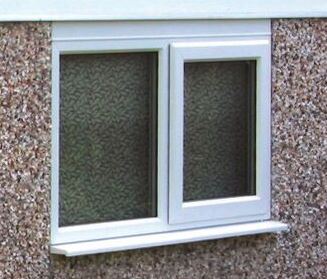 UPVC Rosewood Window
The Rosewood UPVC window is a classy-looking addition to your garage. It can be opening or fixed, choose from 2ft wide or 4ft wide.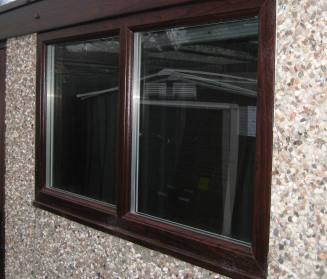 UPVC Golden Oak Window
An attractive light brown wood-effect UPVC window, choose from 2 widths; 2ft or 4ft. This window can be fixed or opening.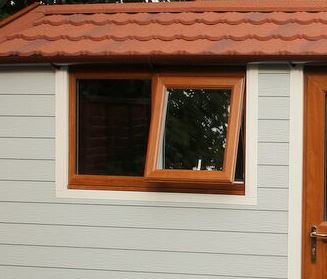 UPVC Anthracite Window
Specify the modern looking grey anthracite window in maintenance-free UPVC. There are 2 widths; 2ft and 4ft and these can be specified as opening or fixed.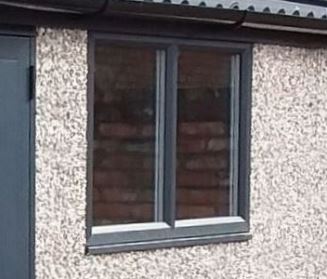 Laminated Glass
A great security and safety feature, laminated glass can be added as a further option to any of the UPVC windows.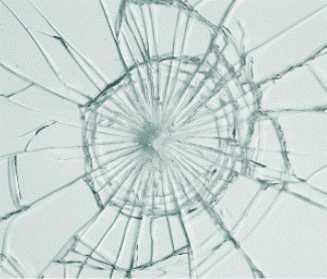 Obscure Glass
For additional privacy but not at the expense of extra light, obscure glass can be specified.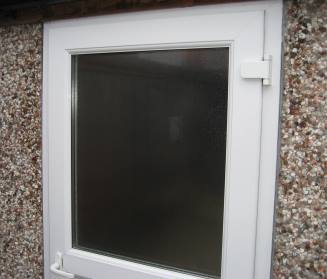 4 Point Locking
Specify 4-point locking on your up & over door to improve the security of your building.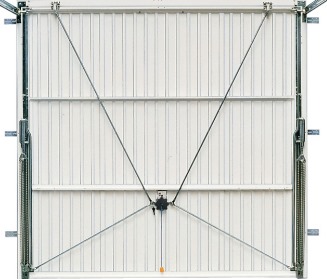 Vertically Ribbed Up & Over Door
Change you garage door to a vertically-ribbed door, available in 6 colours; black, red, green, dark brown, light blue or dark blue. Also available in Golden Oak or Rosewood colourways.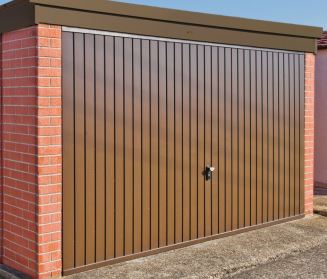 Georgian Style Up & Over Door
This is a classic-looking garage door featuring Georgian-style panels. It comes in 6 colours; black, red, green, dark brown, light blue or dark blue and also Rosewood & Golden Oak.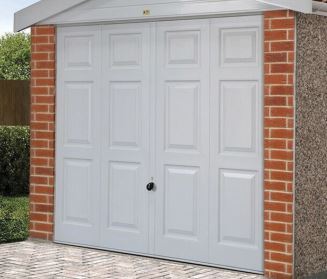 Roller Shutter Door
Only available on pent roof garages, a roller-shutter door is ideal for if you need to park your vehicle close to the garage as it doesn't swing out like an up & over door. White is the standard colour but 8 other colours are available, this can be specified during the purchasing process.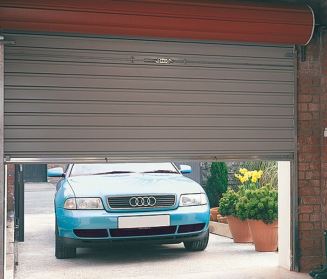 Side Hung Steel Doors
Change the up and over door to a pair of steel side-hung doors, these are only available 7ft and 8ft wide.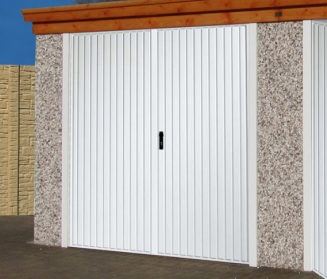 Timber Weather Bar
The weather bar is fixed to the garage base, just behind the up & over door. It helps to prevent leaves, dust and excessive rainfall coming under the garage door.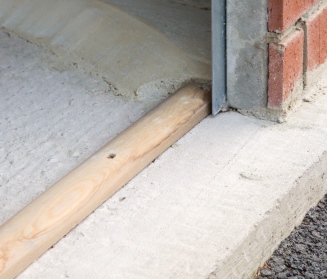 Electric Up & Over Door
The remote garage door opener is suitable for all up & over doors or roller shutters. No need to brave the elements again when opening your garage door! Comes with 2 remote handsets, more are available at additional cost.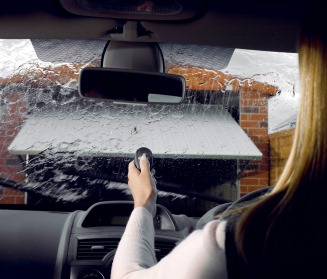 Internal Overide
This is necessary when an electric door opener is specified but there is no personnel door. It converts the garage door to a manual door in case of power failure.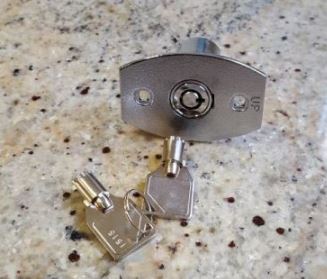 Additional Handset
The remote garage door openers come with 2 handsets but more can be added as required.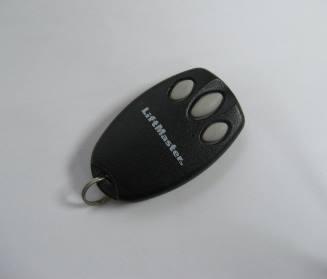 Internal Wall Switch
A wall switch inside the garage to open and close the electric garage door.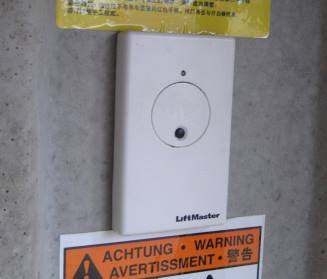 Throughway Garage Door
If you require an additional garage door in the rear of your building, there are various "throughway" options available. (Apex style garages only).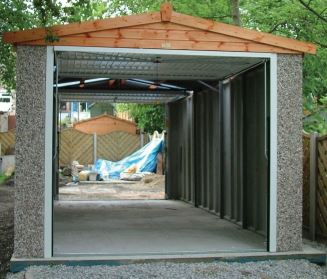 There are five price bands that cover mainland England, Scotland & Wales, please find below a postcode key. Postcodes in column A are priced as per website, columns B to E all carry a delivery charge relative to the distance from the factory. This will be added on during the purchasing process. To find an approximate percentage that the delivery charge will add, please see below. Please note these percentages are not exact and will vary depending on size and model of your concrete garage;
| | |
| --- | --- |
| A | Priced as per website |
| B | Standard and Deluxe garages add approx 6% - 7% |
| C | Standard and Deluxe garages add on approx 10% -12% |
| D | Standard garages add on approx 50%-65% and Deluxe garages approx 40% |
| E | Standard garages add on approx 95%-105% and Deluxe garages approx 85% |
| | | | | | |
| --- | --- | --- | --- | --- | --- |
| A | B | C | D | D (cont..) | E |
| BD | B | CA | AL | MK | AB |
| BL | BB | CB | BA | ML | BT |
| DE | CH | IP24-27 | BH | N | IV |
| DN | CV | LA2 | BN | NP | PA20-38 |
| HD | CW | LA7-23 | BR | NW | PL |
| HG | DH | LL15-19 | BS | OX | PH9-11 |
| HU | DL | LL21-78 | CF | PA1-19 | PH15-50 |
| HX | DY | NE18-20 | CM | PE19 | TR |
| LE | FY | NE45-71 | CO | PH1-8 | |
| LN | L | NN | CR | PH12-14 | |
| LS | LA1 | NR | CT | PO | |
| M | LA3-6 | PE1-9 | DA | RG | |
| NG | LL11-14 | PE13-16 | DD | RH | |
| OL | LL20 | PE26-38 | DG | RM | |
| S | NE1-17 | SY1-3 | DT | SA | |
| SK | NE21-44 | SY5-12 | E | SE | |
| WF | NE82-99 | SY15-16 | EC | SG | |
| YO | PE10-12 | SY21-22 | EH | SL | |
| | PE20-25 | TF3-8 | EN | SM | |
| | PR | TF12-13 | EX | SN | |
| | SR | WR | FK | SO | |
| | ST | | G | SP | |
| | SY4 | | GL | SS | |
| | SY13-14 | | GU | SW | |
| | TF1-2 | | HA | SY17-20 | |
| | TF9-11 | | HP | SY23-25 | |
| | TS | | HR | TA | |
| | WA | | IG | TD | |
| | WN | | IP1-23 | TN | |
| | WS | | IP28-33 | TQ | |
| | WV | | IP98 | TW | |
| | | | KA | UB | |
| | | | KT | W | |
| | | | KY | WC | |
| | | | LD | WD | |
| | | | LU | | |
| | | | ME | | |
What is the delivery lead time?
This can vary depending on the time of year, currently the lead time is around 4 weeks.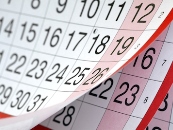 What is included in the price?
All prices include delivery, installation, VAT and a 10 year manufacturer's warranty.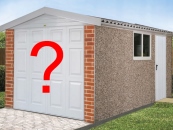 What base do i need for my concrete garage?
You will need a 10cm (4") thick, flat, level concrete base, 15cm (6") longer and 15cm wider than the garage size. We recommend that your base is slightly higher than the surrounding area in order to help keep your garage dry. Slabs, Tarmac or Block Paving are not suitable bases for a concrete garage.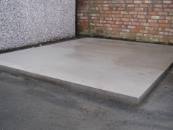 Are the garage dimensions internal or external?
The dimensions given are external to the outside of the concrete panels. When measuring up, please allow for roof overhang and guttering. Internal garage dimensions are 6" (15cm) less than external.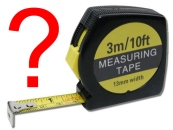 What kind of access do i need for delivery of my building?
As most garage bases have vehicular access leading to them, we can gain access to the base using a Moffett forklift truck to deliver your garage.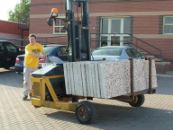 What guarantee do i get with my building?
The concrete garages carry a 10 year structural guarantee. The up & over doors, personnel doors and electric door openers have a 2 year guarantee.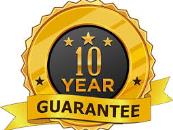 Do i need planning permission?
Very occasionally, planning permission is required. The Planning department of your local authority should be able to help you further with this; it may be worth looking on their website.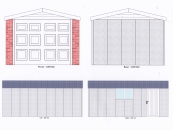 What are the payment terms for concrete garages?
We take a 20% deposit if the garage is ordered in person at our premises or over the phone. The balance is payable 14 days prior to installation. If ordered on-line please pay in full.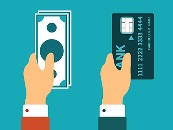 Can you do made to measure buildings?
Yes we can, within reason, as long as the garage is square or rectangular. If you require an 11' x 17'6" for example, please refer to the next standard size up – 12'6" x 18'3" for pricing. We cannot supply garages with walls that taper from front to back or that do not have 90 degree corners.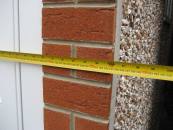 What size vehicle will my shed be delivered on?
Your garage will be delivered on a large rigid truck or an articulated lorry. This will be unloaded by a Moffett forklift.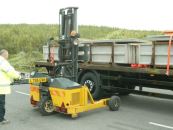 Ways to Buy
Buy online
Configure sizes & optional extras
Call 0121 707 5066
Speak to our friendly sales team
Visit our showroom
Come and see us